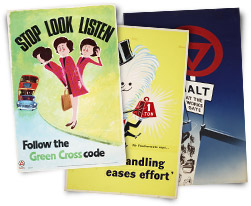 The last 70 years has seen public health and safety communications become increasingly more graphic and confrontational to shock us into noticing, and (hopefully) taking action. Think of the last advert you remember from the TAC or state-based Workcover body – it's likely it attempted to show showed a slice of 'real' life and the impact that accidents have on the physical, mental and emotional wellbeing of the victim, family members and the community.
In 2012, while clearing out its old warehouse, The Royal Society for the Prevention of Accidents (RoSPA) in the UK rediscovered a collection of its safety posters spanning from the 1930s – 1960s.
"The origins of the Society go back almost 100 years to WW1. The war accelerated the shift to mechanised road transport and the consequent increase in related accidents required action. Throughout the 1920s and 1930s the Society addressed itself primarily to issues of road safety, driver education and pedestrian awareness. The advent of WW2 made industrial safety a matter of national survival. The Society's activities were given a boost by the Ministry of Labour and thereafter, industrial safety became one of the Society's major objectives. Poster propaganda has been at the forefront of RoSPA's efforts in promoting safety at work and on the road."
The posters are an important time capsule of both the safety concerns of the time, the historical context and artwork by leading artists of the time. It's fascinating to look back into history to see how we arrived at our modern day ways of communicating safety to a mass audience.
Image Source: http://www.rospa.com/resources/posters/
Want to see more: RoSPA Vintage Posters Exhibition Notes